Progress so far:
Last September I finished my first layered-frame glass circles project:
Today I cut the metal frame inserts for a 2nd set, and soldered the edges for a firm fit in each frame:
Then soldered a whole bunch of circles into them.  I cut the circles back in November: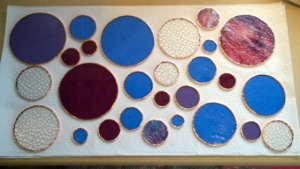 Just for today's purpose:
I just need one more circle for the 2nd one to fill the gap in the center/bottom.
Layered they look pretty cool so far: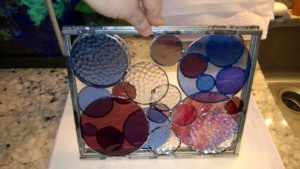 I might take apart the 1st circles project and see what combination of layers looks best between all 4 framed panels.
I also got to try out my new stained glass tool holder – it worked out wonderfully: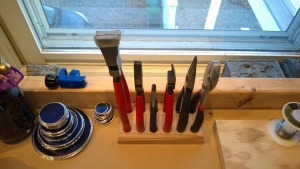 I put some tissue paper on Bonkers' girl cave cat bed and he settled right in to keep me company: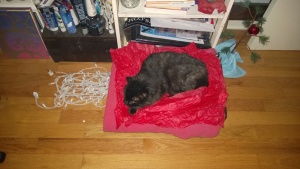 (Visited 206 times, 1 visits today)