Last month I began work on my first stained glass circles project. I cut circles and wrapped the edges in copper foil:
It's been AMAZING having my workshop in the girl cave, which you'll read about in my next post!
Here's me soldering the edges of the circles: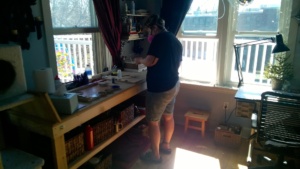 Unfortunately I dropped one of my circles on the floor – d'oh!  Cracked beyond repair *sigh*:
Stay tuned for another update on this exciting project!
(Visited 117 times, 1 visits today)