Today I spent 3 hours cutting 27 stained glass circles for my 2nd stained glass circles project.  I completed my first circles project in September:
I started this afternoon by cutting blue circles because I want my 2nd project to be way bluer than my first.  Then I moved on to purples, pinks, raspberries, & clear bubble glass:
Here's the aftermath of "grozing" the clear bubble glass circles – yikes: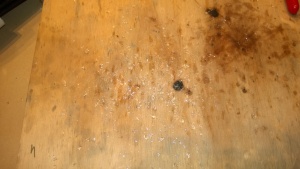 Working with glass is always messy & a bit dangerous!  After I was done cutting, grinding, & washing each piece I laid them out on the kitchen table to dry overnight.  Tomorrow I'm hoping to get the edges copper foiled: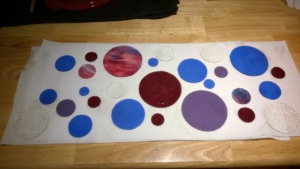 When I was almost done cutting circles I noticed a beautiful sunset out the girl cave window: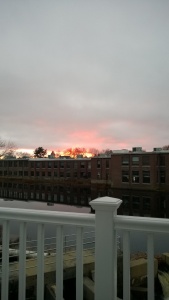 After 3 hours of cutting & grinding glass my fingers are numb and a bit banged up, but it was worth it.  I wanted to get all the cutting done today so I can move on to foiling and soldering tomorrow.  I probably made way too many circles but better to have too many than not enough 🙂  If I do have extras I'll use them for another project.
(Visited 230 times, 1 visits today)