Progress so far:
This morning I sat on the couch for 2 hours watching "Hoarders" [one of my favorite shows] and foiling the edges of the 27 stained glass circles I cut yesterday.  It takes a while but is always satisfying when it's done: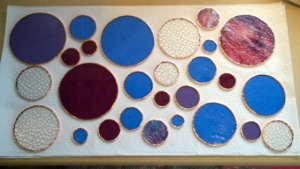 Then I headed up to the girl cave to my stained glass workshop.  I opened 2 windows, turned the ceiling fan on, and got ready to solder.  First step was putting on my respirator.  Then painting on some flux and soldering the foil edges:
Once each side was done I rolled them along my desk like little wheels and soldered the edges: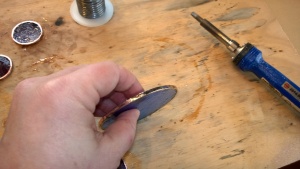 Here's what happens when 2 circles are next to each other and accidentally get bumped while soldering – they fuse together!  I had to heat up the solder and gently pry them back apart:
Then I washed the circles in the sink with a soapy sponge to get rid of the excess flux and solder:
Now they're ready to solder together into frames!  Maybe this week I'll have time, although with the Holiday it's doubtful.
(Visited 286 times, 1 visits today)