My grilling posts are probably getting boring, but I'm still having fun learning how to use the grill and make healthy meals for me & the hubster.  This week I tried wooden skewers for the first time and it worked out really well!  No more onion pieces rolling all willy-nilly around the grill.  And as an added bonus, the skewers didn't burst into flames.
I preheated the grill to HIGH, then cubed 3 onions and put the cubes into a gallon sized Ziploc bag.  I added olive oil, garlic flakes, and seasoned salt, shook the bag up, dumped it out, and skewered the pieces.  I have no idea if I was supposed to soak the wooden skewers in water first, but I didn't:
I put the onions on the grill first, so they'd be less al dente for hubby: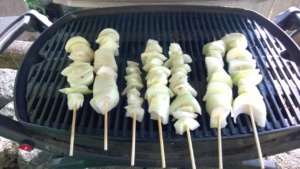 While they were cooking [under a closed lid], I went back inside and opened the 2 packs of portobello mushroom slices I'd bought.  I cut each slice in half, then dumped them into a bag, added olive oil and seasonings, shook it up, dumped it out, and skewered them:
I added the mushroom skewers and 4 ears of corn to the grill.  The onions had been cooking for about 8 minutes already and were starting to get nice and charred: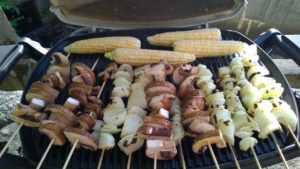 After 6 minutes: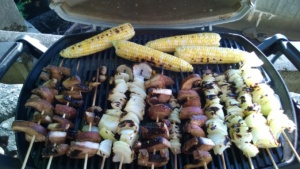 After 6 more minutes: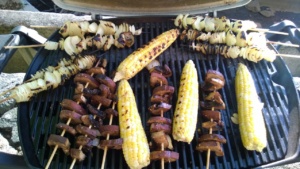 After another 7 minutes everything was perfectly done: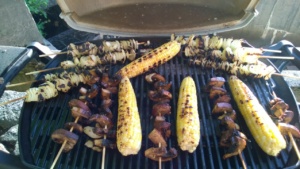 I cut the corn off the cob into bowls, added a bit of butter, and we had a feast:
The petunias in our yard are doing really well this summer – they seem to love the heat!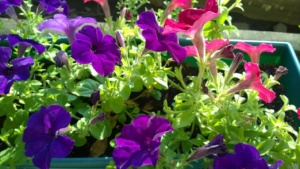 Last week after work we went to Crane Beach in Ipswich [4 miles down the road from us].  The marshes leading to the beach, the boardwalks over the dunes, and the beach itself are so pretty.  We always feel so lucky to live in such a beautiful area:
This past weekend I drove 40 minutes to visit my parents in Marblehead.  Their condo has a beautiful view of the harbor: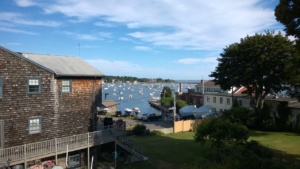 We had a very nice cookout on their deck with my aunt and uncle.  I hope you're all enjoying the summer as much as I am!
(Visited 44 times, 1 visits today)