On Tuesday after work I began grouting the front hall, just the first 2 rows of tile: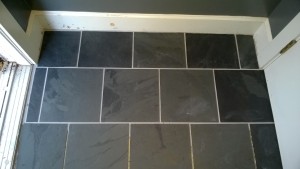 The grout I'm using is SimpleGrout pre-mixed sanded grout in "Delorean Gray", from Home Depot.  It's a very nice, light grey.
Yesterday after work I re-did a few areas of that section where the grout had sunk:
And added a few new grout lines:
I also worked on some of the closet:
I'm about ⅓ done overall.  It's much easier for me to do some, let it dry, then do some more.  Otherwise, as I'm washing the grout off newly grouted tiles, the sponge catches still wet grout from nearby tiles and makes everything all smeared again.  Gah!  So frustrating.  Doing sections at a time allows me to successfully wash the newly grouted tiles and they remain clean.  Grouting is very messy.
Tools of the trade: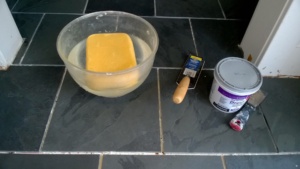 This morning I took some cute pictures of sleepy rat girls: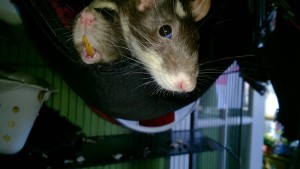 I will be grouting more today.
(Visited 934 times, 1 visits today)