The front hall has needed an overhaul forever.  I sort of sporadically decided to paint it grey this weekend.
Well, let me backup a bit.  Last year, when I was re-doing the laundry room, I was torn between Benjamin Moore Night Flower [a bold raspberry] and BM Kendall Charcoal.  I chose raspberry for the laundry room but kept Kendall Charcoal on the back burner.  Back in February I decided it would look awesome in the front hall, so I bought 2 quarts and painted some test spots:
The front hall was formerly the same green as the downstairs and upstairs hallways.  I wasn't sure if Kendall Charcoal was too dark or not, so I let the test spots sit for a couple months while I thought about it.
Thursday after work I decided to just go for it, and I put one coat on the entire front hall: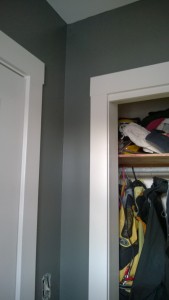 I liked the grey!  So did hubby.  Kendall Charcoal is a nice, natural grey.  Not too brown, not too green, not too blue.  If anything it leans towards brown, which I like.  I also removed the folding door from the closet and have no plans to put it back.
This afternoon I put a 2nd coat on.  But first decided to clear all the clothes and shoes out of the closet and get that ready to paint, too: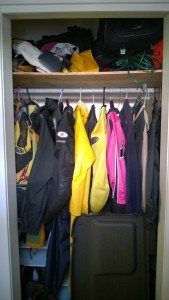 It all got dumped on the freshly cleaned off dining room table and floor:
Darwin helped, but he was more pissed than anything.  He doesn't like change:
Once everything was out, I decided the disgusting carpet had to go: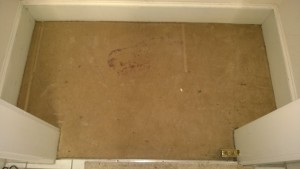 I removed the folding door hardware first: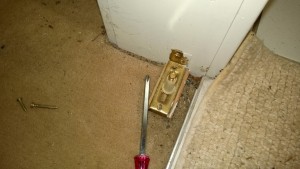 Then used a screw driver to pry one corner of the carpet up, which easily ripped out.  I taped it up and got it ready to toss in a trash bag:
I ripped out the carpet liner, then used my mini pry-bar to rip up the tack strips: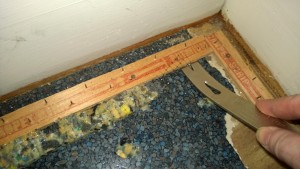 And finally a flat-head screwdriver & needle-nosed pliers to pull out the staples: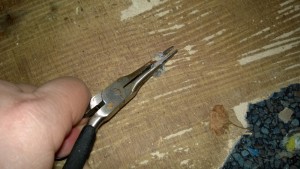 Leaving a clean closet floor with torn blue linoleum [random!]: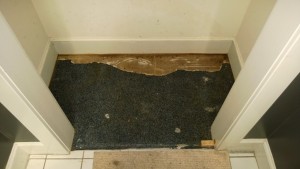 It was still better than the nasty carpet!
Then I spent the next hour & a half painting the closet grey and adding a 2nd coat to the entrance hall walls and closet:
As a last step I decided to paint the closet floor grey, too: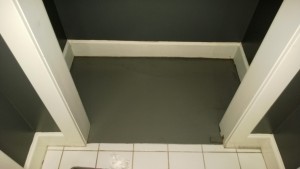 I'm going to be re-tiling the front hall and closet floor this summer so, in the meantime, I figured grey will look better than torn linoleum.
I also ordered a new front hall rug from Amazon [#affiliate], which I think will look awesome, and be a HUGE improvement over the nasty, stained one that's been in the hall for the past 4 years: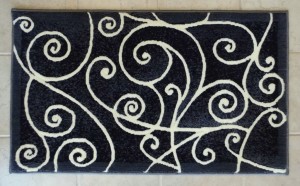 The next step will be buying some ¾" plywood for the shelf, and painting it white.  The old shelf was thin, brittle plywood.
(Visited 565 times, 1 visits today)