Since my last front hall update, I've finished grouting & sealed the grout:
The sealant looked like water, smelled like mint, and was supposed to soak into the grout for 5 minutes but I forgot about it and left it on for 30.  No harm appears to have been done…
I moved the shoe racks and rug back into the hall:
Now it's time to work on the closet shelf.
A few weeks ago my friend Ted gave me his almost new 10″ portable Ryobi table saw:
The blade is pretty scary but it has a full cover which is quite comforting!  And the cover moves up over the wood as you push it through:
Yesterday was the first day I actually used it.  OMFG!  It was a little frightening, but I did well.  I used it to cut a ¾" piece of plywood down to the size I needed for the front hall closet shelf.  Back in March I had the hardware store cut me a piece of ¾" ply for the shelf, but, like an idiot, I cut it up for cat platforms before realizing it was my closet shelf piece – d'oh!
After cutting a different piece down to the right size, I slapped 2 coats of primer on one side.  Tonight I primed the other side: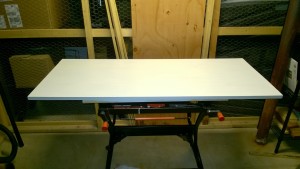 Tomorrow I'll paint it white.  Then I'll try out the iron-on veneer strips my blog friends told me about, for the front edge – woohoo!
Today was a holiday from work, so I went to the paint store and bought a quart of Benjamin Moore Marina Gray: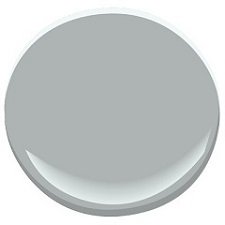 I thought it would work well in the front hall.  It's much lighter than the Kendall Charcoal currently on the walls: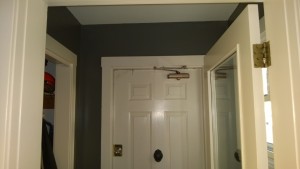 And it seemed to be a good match to the Delorean Gray grout I picked for the slate tiles.  However, once on the walls, it looks like cement:
Granted, it's only one coat, and it's a bit splotchy due to being painted over Kendall Charcoal, but still… I don't think it's the right color.  Too blue-ish.  I'm thinking now of something more greige like Benjamin Moore Edgecomb Gray, BM Inukshuk, BM Pashmina, BM Plymouth Rock, BM Portland Gray, or BM Stone Hearth.  I really don't know… I want something light grey but with brown-ish undertones.  I'll be picking up some more paint chips tomorrow after work.  Any suggestions for a good greige?  I'll be doing some more research too.  At this point I'm leaning towards Inukshuk or Pashmina.
Before painting the walls I made sure to cover every square inch of my new slate floor with contractors paper!
It's not a total loss.  The coat of Marina Gray will act as a good underlayer for whatever color I choose next 🙂
(Visited 690 times, 1 visits today)