Progress so far:
A couple of weeks ago my coworker & friend Diane heard I work with stained glass.  She had tried it years ago and is thinking about taking it up again.  I offered to go over the basics with her if she came over.  So 3 Sunday's ago she came by and we spent a couple of hours playing with stained glass 🙂  I've never really taught anyone anything before [!], so I was pretty nervous.  I learn best by doing, so I told her we were both going to make a stained glass star.  I didn't take any photos because I was so focused on teaching!
We used the same pattern I used for my original stars: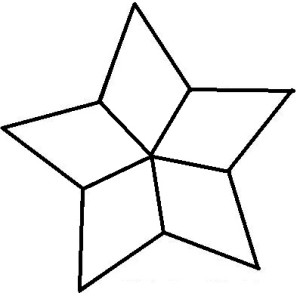 Diane made a beautiful blue & white star which I wish I'd taken a picture of.
I made a blue star for my mom – it's a [very] belated Mother's Day gift.  After Diane left I added wire swirls to each foot:
Then I made a deep purple star for my blog friend Jessica.  It has a wonderful deep hue and a subtle texture to it:
Here's a photo of it from Jessica's blog [she wrote a whole post about it!] which shows the true color: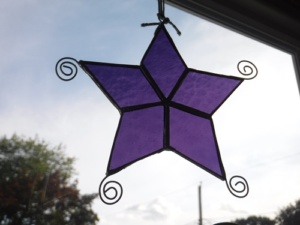 I've been wanting to make Jessica a star ever since receiving the wonderful bowl she made, which she gave away with 5 others on her blog back in April.  I won the bowl I loved the most, which was #4 out of 6 designs:
The bowl looks beautiful on our very messy coffee table [it's not usually so messy].  And it looks different in different lighting:
A camera flash brings out the creamy hue of the blue.  It's such a beautifully made & glazed bowl!
Once the chameleon is done, I look forward to more stained glassing.
(Visited 593 times, 1 visits today)