Wednesday after work I laid 2 more tiles:
I got to see how well the tile sealant works, because as I used the wet saw it sprayed slough over the little pieces I'd used as sealant testers.  It beaded up on the sealed side and soaked into the non-sealed side: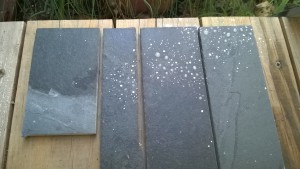 Today I laid 5 more tiles, which make up the first row in the closet:
After laying them I decided to seal all 7 newly laid tiles.  I used a damp [not wet] sponge.  I opened the sealer, held the sponge to the opening, quickly turned the bottle upside down and back up, then used that amount for one tile: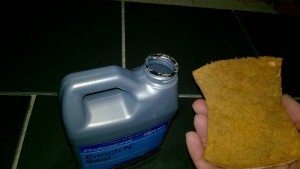 I gently spread the sealer across each tile with the sponge, then used a paper towel to rub the tile dry:
If you don't wipe the sealer dry within 5 minutes it can leave a haze on the tiles.
Sealed tiles clean SO MUCH EASIER than unsealed!  At least with slate.  I made such a mess on the 23 tiles I laid last week.  But since they were sealed, they cleaned up with just a swipe of a damp sponge.  No more scrubbing for hours trying to get mortar residue off!
For whatever reason, I was a bumbling idiot today while tiling.  I wasted 4 tiles and only laid 5.  I kept messing up my cuts.  I have so many spare pieces now: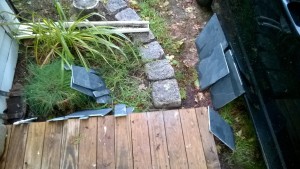 I also removed the spray guard from the wet saw today – I found it much easier to cut through whole tiles with it gone: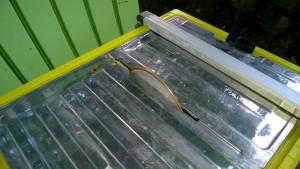 Tomorrow I'm hoping to get the final 2 rows done!
(Visited 393 times, 1 visits today)