Lately I feel like the Keeper of the Hole.  Last week I wrote about the drought and how the fish ladder has dried up, and also how I removed some rocks from the entrance to the storm drain below our house [aka "the Hole"]:
Well, today it was even worse!  I have no idea how this happens, but today the hole was blocked by more rocks and some huge branches/trunks:
So I jumped down and 10 minutes later had the majority cleared, at least enough for the turtles, beavers, otters, raccoons, and whatever else to get through: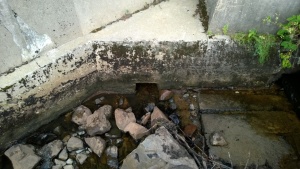 Much better!  So I have christened myself "the Keeper of the Hole".
And in case you're curious what it looks like in the hole [I totally was]: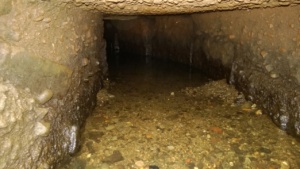 Spooky!  I kinda want to crawl in, but I'm way too big.  I often wish I could shrink myself down to Barbie size and accompany hubby on his runs [tucked into his chest pocket, you know, just for kicks and because I'm too lazy to run myself], and now I wish I could shrink down to otter size and race up the tunnel with my ninja night vision.  Next life *nods*.
In case you missed my Facebook and Instagram, we had 2 raccoon pups visit our living room bird feeder last night:
They were ridiculously cute, and seemed to have no fear of humans, which is kinda bad… At one point I grabbed a paper towel and tried to wipe the cat-nose marks off the inside of the window [because bird feeder] and the pup at the feeder moved his head back and forth watching the paper towel – it was hilarious!  At one point I thought they were both gone, and I saw the tree beneath our yard wall shaking, so I figured they were climbing up.  I crept out the back door and looked over the wall in time to see one drop back down into the dell.  Meanwhile, I realized the other one was back at the feeder.  I talked "baby talk" to him and he slowly crept closer – no fear!
He was literally 2 feet from me, so I went back inside.  I didn't want to encourage him, even though I totally wanted to pat him, pick him up, and snuggle him!
I do have some DIY planned [finally] for this coming holiday weekend.  Sorry it's been so long.  I've been totally distracted by herons, turtles, & otters.  And the hole.
Here are 2 pics I took after work today of a snapper in the River & our first hibiscus flower of the season [I have like 12 hibiscus plants, but so far none have flowered – they spent most of the winter flowering [inside of course!] so they've apparently been on hiatus]:
(Visited 210 times, 1 visits today)