You may recall that in June I completed my first 5k race.  I must point out that I speed-walk, I don't run.  Regardless, it's still quite challenging & exhilarating!  Hubby runs 5 or 6 5k races each summer and this year he suggested I join him for some.  It's way more fun to be part of the race than it is to be sitting on the sidelines reading a book!  So this past Saturday we completed our 2nd 5k together – woohoo!  Despite being almost October, it was unseasonably warm – 65 degrees and breezy at 9am – perfect race weather!  Here's our pre-race selfie: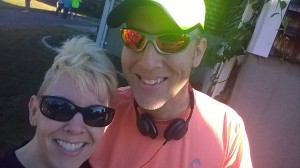 When I walked my first 5k back in June, there were about 100 other walkers which made me feel right at home.  I was hoping to see a bunch of walkers in this race, too.  Hubby prefers to start each 5k towards the back of the starting lineup so he's not trampled or shoved when the gun goes off.  So by the time we actually crossed the start line, a lot of runners/walkers had already taken off.  After a few minutes of walking I couldn't see any walkers ahead of me, so I figured there must be a bunch behind me.  I took a stealthy, over-the-shoulder shot and saw… *insert sound of crickets*… none: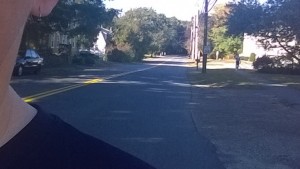 You know what that means, right?  I was in dead last place.  D'oh!  Up ahead were some sluggish joggers: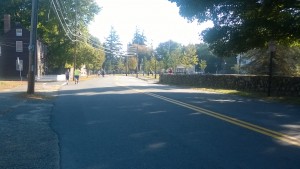 Which is when it dawned on me that I might be the ONLY walker!  OMG!
My only goal at that point was to catch up to the sluggish joggers and pass their asses so I wouldn't come in dead last and bring shame to my family [I watch too many martial arts movies].  By the time I caught up to them they were walking, making for an easy pass.  Bam!  A few minutes later I spotted 2 actual walkers up ahead – woohoo!  They were walking about the same speed as me, so it took about 20 minutes of concerted effort to overtake them.  Once I accomplished that, I saw a really big hill coming up.  I dug in my heels and speed-walked up that hill as fast as I could.  About halfway up I came upon 2 more sluggish joggers, huffing & puffing along.  So I passed them – walking!  HA!  I heard one of them say "did we just get overtaken by a WALKER?".  They immediately sped up and passed me, but tired out again quickly so I got to walk past them again.  Double HA!  They did end up overtaking me once the hill leveled out, but still, it was pretty awesome to walk past 2 joggers twice!
As I neared the finish line I noticed a troop of old biddies in black running gear who'd formed an impromptu "finish line cheering committee".  They were yelling and heckling me with "oh c'mon, you HAVE to run across the finish line!" and "You can't quit now!"  [I think they assumed I'd been running for most of the race].  So I broke into a run for the last 10 feet and as soon as I did, they started cheering and clapping really loud – it was funny 🙂
I finished the 5k [3.2 miles] in 46:18.  Which put me in 191st place out of 195… HA!  I'm just glad I wasn't dead last… [my family's honor is intact]!  I had a pace of 14:54/mile which is 4mph – a personal best!  In comparison, I finished the June 5k in 51:30 [on a scorchingly hot morning, which definitely slowed me down].  Hubby finished well ahead of me with an overall time of 31:49 and pace of 10:15/mile.
I wore my race tag on my leg cuz I'm cooler than you:
When we got home [the race was just up the road in Rowley, MA] we changed into comfy clothes, made some coffee/tea, and relaxed.  For me, that meant taking Darwin outside, sitting on the front step in my Hello Kitty pajamas with my Hello Kitty tea mug, and watching the world go by.  I love sitting out there in the mornings – it's so peaceful and pretty – Darwin loves it, too!
Unbeknownst to me, hubby took an adorable picture of me and Darwin sitting next to each other [Darwin had gotten spooked by the mailman and raced back into the doorway, next to mommy]:
(Visited 116 times, 1 visits today)