Last weekend I was mostly a slug, aside from speed-walking a 5k with hubby Saturday morning.  But by Sunday afternoon I'd garnered enough energy to install the girl cave ceiling fan.  It took half the time as the bedroom fan install, mostly because I could easily reach it from my ladder!  And I knew [mostly] what I was doing this time around.
When I ordered the new fans for the house, they only came in white [#affiliate], silver [#affiliate], or koa wood [#affiliate].  We chose white for the master bedroom, koa for the living room, and silver for the girl cave [I wanted black for the girl cave, but they didn't have black grumble]. I figured it would be easy enough to spray paint the silver one high-gloss black, and it was:
Shiny!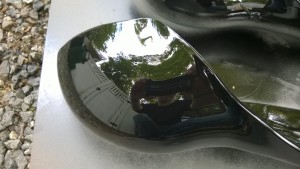 I didn't do the best job… but I figured the drip marks, splotches, & finger prints wouldn't really show from the floor, once the fan was installed!  [And I was right!]
So last weekend I spread the fan parts out on the living room floor and put the fan together, per instruction manual.  Then [always the most important step!] scampered down to the basement and flipped the breaker off.  A quick check of the ceiling wires with my voltage tester assured me I was all clear.  Then it was just a matter of climbing up the ladder with the fan in one hand [I love how light the new fans are!], setting it atop the ladder while I wired it, and clipping it into the ceiling mount.  Super easy!  I didn't even need hubby's help until the very end when I was trying to attach the ceiling plate to the ceiling.  Thanks, hubby!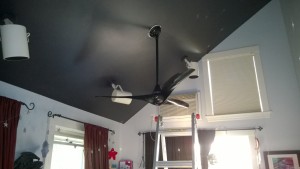 The best part was hearing hubby yell "it's working!" when I flipped the breaker back on in the basement – woohoo!  First try 🙂  pats self on back: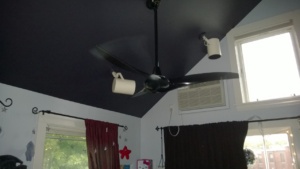 Once it was up, I realized I'd have to touch up the paint around the ceiling plate: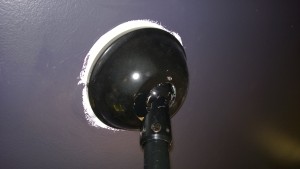 Which took about 3 minutes to fix, & then I was totally done!  I LOVE how the black fan looks!  Now I just need to figure out what to do about the ugly can lights…
PS – the aqua fleece blanket on my art table [that you can see in the last photo] is Birdie's favorite place to spend the night.
(Visited 262 times, 1 visits today)