Frankly, I've never thought about our cellarway.  It's always just been "the cellarway".  A way to get from the kitchen down to the basement.  But last month as I was coming back up from the basement it finally occurred to me "hey, there's no reason these walls have to remain dirty, white, matte crap – I bet they'd look really good the same shiny blue as the bedroom accent wall!"  An idea was sparked, quickly followed by action a few days later:
I started cleaning off the wrap-around shelf before taking a BEFORE pic.  Duh.  So here's mostly before:
I decided to paint both the walls AND the ceiling the same color:  Benjamin Moore Bluenose in semi-gloss.  I couldn't reach the ceiling in some places so I used my Little Giant ladder, which is excellent on stairs, because articulating: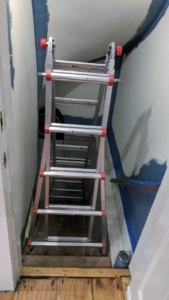 After edging the walls & ceiling:
After 2 coats of Bluenose: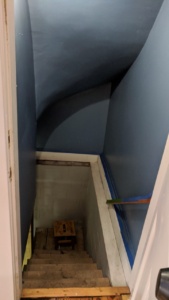 When I shone my halogen work light on it, it really displayed the shine.  I LOVE shiny paint!  Now the cellarway looks very castle-like:
After the walls and ceiling were done, I painted the shelf and shelf trim with our off-white Benjamin Moore semi-gloss trim paint.  Then moved on to the cinder blocks below the shelf:
I had painted them grey in 2018 with Drylok masonry waterproofer, but they definitely needed an upgrade.  After 2 coats of generic white paint they looked much better:
Then I sealed the wooden shelf and shelf trim with a coat of Polycrylic.  I'm hoping it will help protect the shelf from chips and dings:
After a few days I put everything back:
This time around I utilized hooks to make better use of the wall space.  Lots and lots of hooks!  Basically if it could hang on a hook, it now is:
I had some plain white hooks which I used first, then went to World Market last weekend and bought decorative metal bird hooks and a pretty ceramic tile hook – they really liven up the space:
Here's the official BEFORE & AFTER:
So much better!
I'm contemplating adding a coat of stain to the stairs.  They're unfinished wood.  I think a nice deep walnut would look very nice.
UPDATE 9/11/2020:
I forgot to mention I also used a whole canister of caulk to fill in the cracks above & below the wrap-around shelf before painting them.
(Visited 79 times, 1 visits today)