This past November I decided to relax by coloring with crayons.  I have been keeping an ear open to the recent trend of adult coloring books, but wanted to draw my own designs to color in.  I found a book of thick art paper in the girl cave, grabbed my circle template [same one I use for stained glass and art painting], a sharpie, a ruler, & set to work.
My first coloring project was based on a painting my mom has at her house in Florida: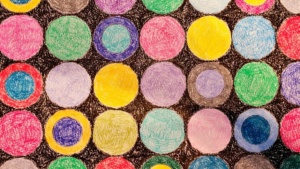 For my 2nd masterpiece I tried some new angles with the ruler: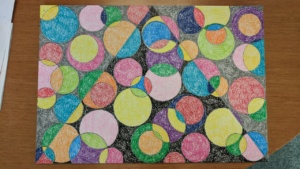 For my 3rd, I experimented with thick sharpie borders on some circles:
And for my 4th I tried something new with the corners [radiating edges]: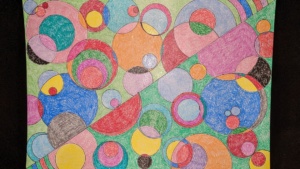 I hung the first 3 up at work with thumb tacks but after a week they started to bow in the middle.  So I brought them back home and mounted them [badly, but good enough for crayon art!] on foam core board.  I cut the pieces of foam core with a combination of utility knife and kitchen scissors, then used spray adhesive to attach them:
I have only used spray adhesive once before, and didn't realize you don't have any wiggle room if you make a mistake.  So there were a few edges where you could see the foam core.  I trimmed them off with kitchen scissors and a box cutter:
As you can see when the art is on it's face, the foam core doesn't match up very well at all!  LOL… but, as I said before, it's good enough for crayon art.  Once I trimmed the excess you can't tell from the front:
I originally attached string to the backs of each board with tape, but the tape wouldn't stick to the board.  I resorted to staples:
I hung them on my office wall using my new disco ball push pins: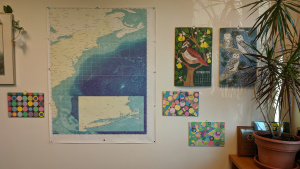 Here are 4 photos of the crayon art taken with an app hubby downloaded for me called Office Lens.  I found the colors to be way too bright, even with the filter off, but they make for nice pictures:
Happy Holidays everyone!!!
(Visited 58 times, 1 visits today)