Not something you usually see in the same sentence, but my weekend was all about caulk and cat butts.  Yesterday poor Bonkers had his butt shaved to remove gobs of greasy mats.  The vet said she'd never met such a greasy cat.  Like seriously:  no matter how much we brush him, he gets mini dreadlocks on his belly and big, greasy mats on his back and sides.  And now his furry little muppet butt is shaved: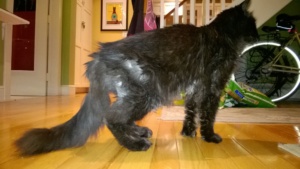 It's hard to tell from the picture.  But his butt and legs used to be 100% fluff.
And this past weekend I caulked for the FIRST TIME EVER!  It's another DIY milestone.  Now I realize why everyone always says it's easy!  I caulked the outside of our 7 non-replacement-window storm window frames.  At first I got up on the ladder to caulk the bedroom window frame on the back of the house:
I used DAP Window, Door, and Trim Sealant: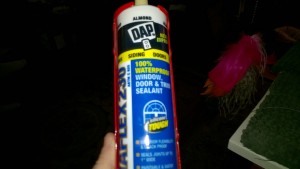 I glopped it on, and smoothed it out with my fingers:
Then I moved around to the driveway side of the house to do the 4 windows over there [dining room and girl cave]: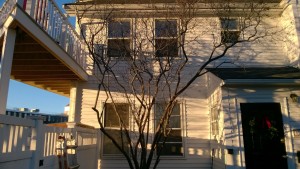 But realized I could just as easily caulk the edges of the storm window frames from inside… duh.  I did the 2 lower windows from the outside, and did the 2 upper ones from the inside.  Then remembered I still hadn't done the living room window below the bedroom window on the back side of the house, so I ran back around and did that one, too.
(Visited 341 times, 1 visits today)