This afternoon I finally attached the ramps I finished building last Thursday.  I decided to attach them the same way I'd attached the dining cat platform and ramp – with hooks and eyes: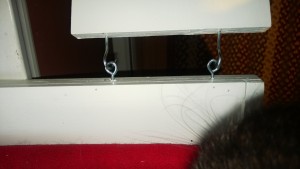 Which turned out to be pretty ugly when applied to the cat enclosure:
Especially when I decided to add twist ties to secure them:
So this evening I came up with a much better solution, which required the use of 3″ deck screws:
It also required that I climb into the enclosure to get the appropriate leverage necessary to secure the interior shelf: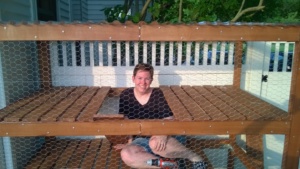 From underneath, the screws aren't the prettiest things, but they work really well and the shelves don't budge and inch – they're sunk about ½" into the enclosure wall: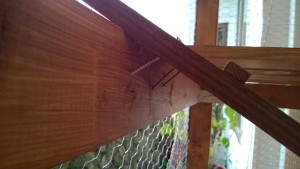 In between attaching the shelves via hooks & eyes, then later via deck screw, I worked on cutting, staining, and attaching the luan slats to cover the chicken wire staples on front of the enclosure:
I attached the slats on the side last week.  So now the front is done, too: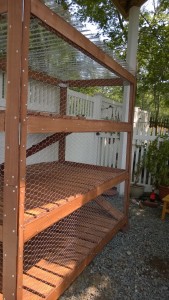 Then I shoved the enclosure BACK against the fence/house and called it a day, since it was SO hot out: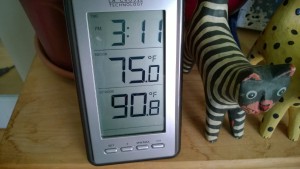 The AC kept the condo nice and cool, which was appreciated by human, feline, & rodent alike!
Meanwhile, my flower pots and seedlings are doing really well:
(Visited 1,044 times, 1 visits today)