The Mass Audubon Ipswich River Wildlife Sanctuary in Topsfield, MA, is about 20 minutes from our house [maybe less].  It has beautiful trails and waterways & is a very peaceful place to walk.  Abbie and I went a few times last year.  These photos are from a March 2022 walk we took.  The birds at this sanctuary are used to eating out of people's hands, so it's smart to bring a little bag of birdseed.
I loved this cool woodpile which seems to include an entire dead tree inside it.  And the views of the waterways were stark and beautiful:
There are many boardwalks through the wetlands.  One had a beaver dam built right over it:
As we walked, we stopped every now and then and held our hands up for the birds.  The first bird to land on my hand was a Downy Woodpecker.  The pic on the left is one I took with my phone while he ate out of my hand, the pic on the right is one Abbie took at the same time.  I love Abbie's pic because you can see how gently he's gripping my finger:
As we walked further through the sanctuary we wandered past a beautiful blue waterway:
A goose started swimming towards me – he was like "I know you've got some seedz!"  Abbie disappeared around the next bend, she is not a fan of being bitten!  I figured as long as I had food he wouldn't bite me, and he didn't.  He was very gentle:
Once I ran out of seed, he wandered very slowly by me, giving me the eyeball: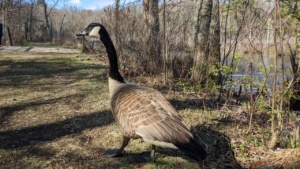 I didn't realize Abbie had taken some shots of my goose encounter:
It's a very beautiful place to walk, any time of year: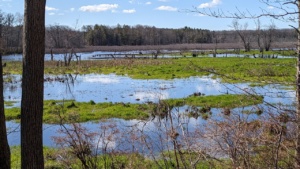 Around the next bend we saw two HUGE Pileated Woodpeckers eating bugs from a dead tree.  I've never seen 2 of them together before!  They are about a foot tall.  I was KICKING MYSELF for not having my DSLR & zoom lens.  Abbie had told me to bring it, but I didn't listen…  Here's my crappy phone shot followed by 2 of Abbie's amazing shots: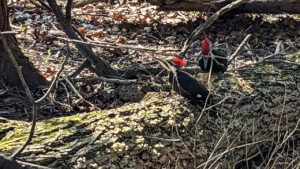 Such beautiful birds!  Thanks for sharing your pics, Ab!:
After that was my Chickadee encounter:
And some beautiful daffodils we saw as we were leaving.  A nice sight to see in March!: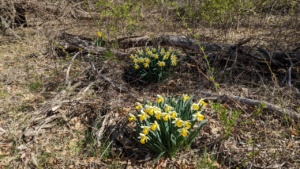 Last weekend Jim and I went for a short walk at the Sanctuary.  The pink water lilies made me smile & to see everything so green & vibrant was a nice contrast to seeing it in winter:
Jim had a squirrel encounter near a bench.  It was adorable:
We will be going back again soon.
(Visited 29 times, 1 visits today)