Now that I'm caught up on my 2021 posts, I'm moving on to 2022.  In August 2014, I found this amazing swag pendant on Amazon.  I love it.  I put a color-changing LED bulb in it and it has been a beautiful addition to our upstairs hall ever since:
Some OLD photos of the cats with the lamp:
However, in April 2022 it stopped working.  I was so bummed.  I figured out pretty quick it was the cord.  Typical craptastic crap.  So I ordered a new cord on Amazon.  It had to be long enough to go from the lamp, along the chain, and down to the floor where the outlet is.  It also had to be silver-colored, to match the chrome chain.  It came with nice tin-capped ends.  I marked one with a Sharpie so I'd know which side was the neutral [wider] and which side was hot:
Then I had to learn how to tie an "undertaker's knot", which provides strain relief for electrical appliances [aka the wiring is much less likely to pull apart from the terminals].  I had to find a YouTube video before I got the hang of it – this one from See Jane Drill was the best!!!  Jane makes it very easy to tie this surprisingly complicated knot.  I still had to watch it 2-3 times before I was successful LOL: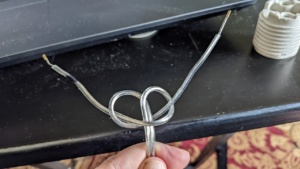 Then I connected my new cord to the terminals on the original ceramic socket:
Of course, I realized after the fact that I had to feed the cord ends up through the lamp neck FIRST, before connecting the wires to the terminals, so I had to redo it, no big deal:
Then I put the socket & neck back together, squishing the undertaker's knot in the process:
And screwed the LED bulb back into the socket:
Before finishing, I made sure everything was working: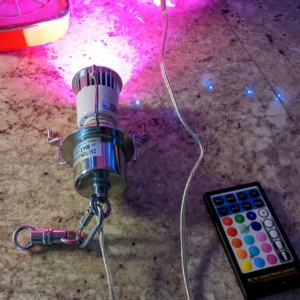 Then screwed the lamp neck back to the swag pendant:
And hung it up again!  Love it: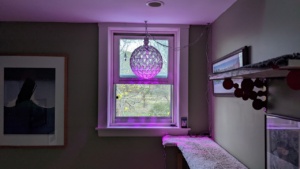 I had never changed out the cord on a lamp prior to this project.  I can say with confidence that with the help of YouTube, it was SUPER easy.  If you have a broken lamp in need of a new cord, go for it!!!
(Visited 32 times, 1 visits today)