This post is dedicated to my Dad.  He's pretty awesome.  From a young age he instilled in me & my brother the value and satisfaction of DIY.  During his summer jobs through college, Dad worked for a general contractor.  He learned enough to do most of the work on my parents' antique houses growing up.  By age 7 we'd moved into our 5th house [thankfully we stayed put after that]!
Some of the projects I remember Dad doing include refinishing half the basement to make himself a home office; building custom built-in bookcases for almost every room; re-doing the "den" [which had previously been an outdoor porch] into a TV room, which included installing all new windows and turning a doorway into a media closet.  He also built a screened-in porch off our kitchen, which was an amazing addition to the house – here's the view from that porch, in roughly 1988: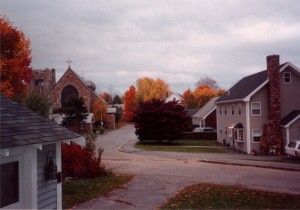 He wallpapered.  He did plumbing.  He did roofing.  He did electrical.  I remember once he was re-wiring my brother's bedroom and electrocuted himself because the hundred+ year old wiring was faulty.  I think he just swore under his breath and laughed it off.  That's what made me realize being electrocuted was no big deal.  I mean, in terms of 110 volt outlets… not bigger stuff which obviously can kill you!  Dad basically did it all.
Watching Dad work and watching him "wing it" on projects he'd never done before made me realize I could do it too.  Same with my brother, Seth, who has been doing DIY projects on his houses for 2 decades.  My DIY instincts lay dormant until I moved into this condo when I met hubby in 2011.  I've been DIY-ing ever since!  Most people:  "why do it yourself when you can hire it out".  Me [thanks to Dad!]:  "why hire it out when I can do it myself!"  I mean, I do realize when I'm in over my head, and we do hire projects out.  But the majority of them I'm able to do myself.  And when I am faced with something I've never done before, there's YOUTUBE!  Best DIY teacher out there, next to Dad.  In a roundabout way Dad is the reason for this website!
So thank you, Dad, for showing us the ropes and instilling in us a life-long love of DIY projects.  I love you sooooooooooooooooooooooo much!!! ♥♥♥
Here's Dad holding the stained glass catboat I made him a few years ago: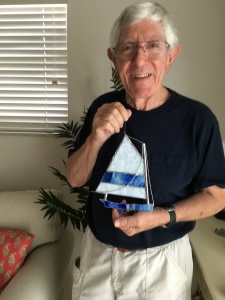 Featured image for this post is Dad and I in his actual catboat, circa 1996: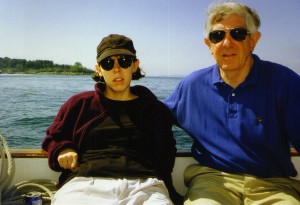 (Visited 105 times, 1 visits today)