This past summer Jim challenged me to build a 3-panel folding screen for under $40.  Actually, it started with him searching online for an affordable screen for the corner of the bedroom.  He was asking me "how about this one?  Or this one?" and I was like "they look like discount store dressing rooms!".  All white plastic and beige fabric.  Woof!  The nice ones were all at least $100.  He was like "I'm not paying that much".  And I was like "Why don't I just build one!" and he was like "if you can build one for < $40, you're on!".  So I did 🙂
I went to Home Depot and bought the cheapest wood I could find.  9 8-foot 1×2″s for $1.28 each!  Total wood cost:  $11.52.  I used my miter saw to cut them into 6 6-foot lengths and 12 15-inch lengths: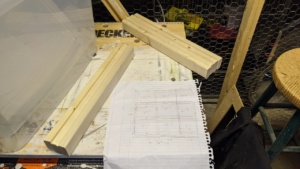 Then I put on 2 coats of primer, which I already owned, with cheap brushes which I already owned:
For the finish I chose Rust-Oleum Ultra Cover in semi-gloss black, which cost $4.98: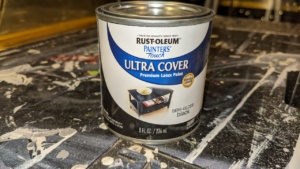 I painted on 3 coats of black with a Wooster shortcut brush [#affiliate] which I already owned:
Then brought the wood upstairs and used my Kreg Jig [set to ½"] to cut pocket holes in each of the 12 cross-pieces:
Then screwed the frames together with Kreg screws [already owned]:
Instead of using fabric [which cost waaaay too much money, at least the black and white patterns I was looking at], I took the advice of someone online and used fancy contact paper [#affiliate] from Amazon.  I bought 2 rolls of peel-and-stick for $7.68 each.  Total cost of "fabric":  $15.36.
I made marks on each frame with a grease pencil so I'd know where the cross braces were.  Then staple-gunned the contact paper to each frame and cut off the excess [I did not remove the backing of the contact paper]:
I bought 3 2-packs of hobby hinges for a total of $8.01:
I marked where they should go, then carefully drilled them into the panels [with pilot holes first]:
The folding screen was DONE!  Of course, the wood being so cheap, it cracked pretty fiercely along the top and bottom edges:
But you can't see the cracks when the screen is upright, and they don't affect the stability.  The screen folds up small, and then opens up fairly wide:
Success!  Total cost = $39.87!!!
Therefore, it's totally possible to build a beautiful DIY 3-panel screen for < $40 🙂
(Visited 65 times, 1 visits today)