For Christmas hubby gave me a set of Chromatek watercolor pens:
They're like markers: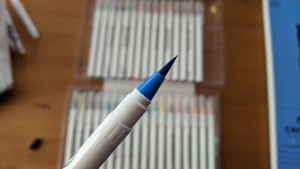 But when you draw with them on watercolor paper and then add water, the water "activates" the watercolor paint.  The set came with a small pad of watercolor paper & 4 hollow brush head pens which you fill with water and use to paint with after applying the color [only 3 are pictured – they roll away quite easily]:
The box came with a suggestion to try the Chromatek tutorials on YouTube, and their website has 6 templates you can download & print that go with the tutorials.  So that's what I did for my first 6 paintings.  The watercolor paper is size A5, which you can see in the closeup.  That was important when trying to print out the templates onto the watercolor paper!  Amazingly after much trial and error I realized our printer tray actually has an A5 setting, and is a perfect fit for the watercolor paper:
I started with the Bird of Paradise plant and the pear, but was so wrapped up in following the tutorials I didn't take pictures.  Next up was the feather.  I started with the printed out template [the templates aren't detailed, they just provide you with a guide].  Then followed along with the YouTube video on the TV:
The 4th tutorial was the jellyfish:
Here's the first 4 tutorial paintings, completed: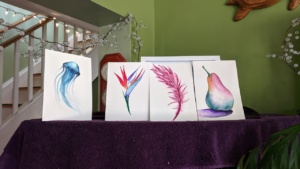 Next up was my favorite, the beetle bug [if you look closely at the printed out template you can see I erred by printing the bug over a previously wrong-sized pear], but no matter: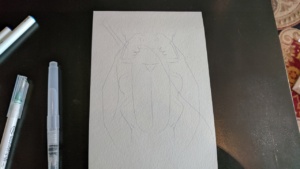 The tutorial suggested you draw 3 egg shapes and practice highlighting and shading before attempting the bug:
Then I painted the blue bug: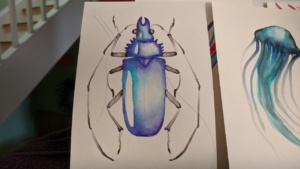 Followed closely by a green version:
I like how they look together and want to paint more: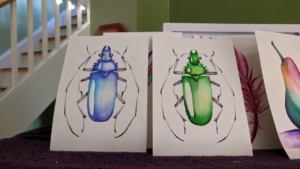 I haven't done the 6th template yet, which is a hummingbird.
In the meantime I had bought myself some larger watercolor paper on Amazon: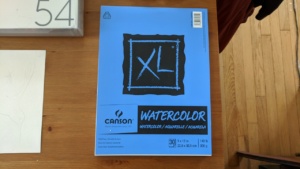 A few weeks later I tried my hand at painting without a template.  I had seen a tutorial on YouTube by Kelogsloops about how to paint ocean waves: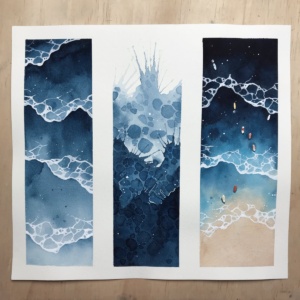 And tried to follow along on the larger paper [I doodled a Hawaii whale-tail painting on the right].  My ocean waves = FAIL: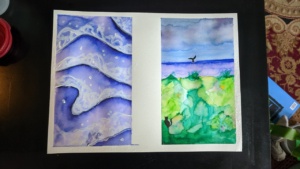 My version is appalling.  But I will try again!  And again and again… He uses white calligraphy ink [#affiliate] and a tiny paintbrush to apply the white detailing after the watercolor dries.  I need to get me some of that.  I tried using white acrylic paint and it was not the same.
(Visited 117 times, 1 visits today)