This is my final Hawaii 2019 post.  I think this is the first year I've had 6 posts for one trip!  Speaking of which, thanks to an idea I got from one of Jim's coworkers, I have a new HAWAII menu item which will take you to a page with 4 labeled photo blocks, one for each island:
To read about our travels to each island, just click on the appropriate photo block and you'll be brought to a page with links: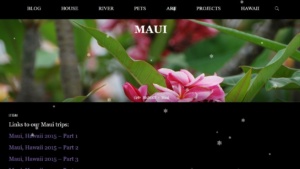 UPDATE 6/10/2020:
This menu item is now on the right side of the page, under "ADDITIONAL LINKS".
---
On our last night in Maui, we were excited to find ourselves front and center for the 7th Annual Lahainatown Classic Car Show!  It was happening right outside our hotel and on the surrounding streets.  At around 5pm we heard some noise and went out to the balcony to investigate.  We watched as a line of classics came rolling slowly down the street: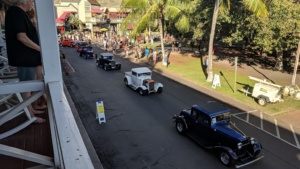 They were parked very carefully in a long row:
We [always clueless] were like "something is definitely happening tonight!".  We decided to take a wander and got to see some incredible cars:
This pink one was my favorite – check out the custom pink wiring!  So cool:
And this green Jaguar with amazing rivet detailing and something under the glass I still can't identify [engine block?]:
Then we headed back to the hotel – you can see it in the background in the 2nd photo:
As it got dark they turned on police lights.  I love staying at the Pioneer Inn – there's always neat stuff to watch while sitting on the balcony:
This wraps up our 2019 Hawaii trip.  It was very special this year because we were joined by Jim's dad, his dad's wife Susie, and Jim's aunt Alice [aka Auntie].  The concierge at the hotel took this photo of us before Pop, Susie, and Auntie flew back home: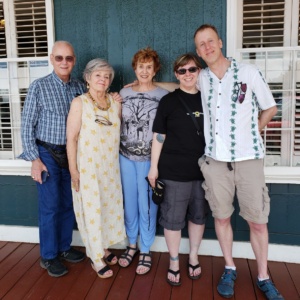 We are booked for our 2nd trip to Kauai this coming April.  Until then, Aloha & Maholo for reading!
(Visited 56 times, 1 visits today)