I spent all of last week in Germany visiting my German family.  It was awesome.  More about that trip in later posts.  On the way over, I had a 7 hour layover in Copenhagen.  My Dad [who has been there before] suggested I take the metro from the airport to Kongens Nytorv [King's New Square] where I'd be able to buy tickets for a canal tour.  The tour boat was only a block from the metro stop and easy to find thanks to the map my parents had given me.
Here's Darwin as I was packing the night before my trip – "you're not going without me, mommy!":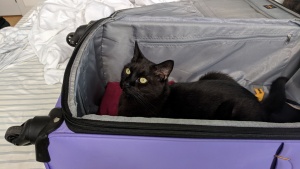 The canal tour was beautiful.  So many historic buildings and churches:
The Maersk Headquarters in Copehagen is amazing – the windows all reflect blue.  The tour guide told us it was also designed to look like stacked shipping containers – so cool!  We also passed a beautiful crazy, beautiful building which has special glass panels which reflect the water:
The boat was very low to the ground and kept going under numerous very low bridges.  The tour guide was a very funny girl who spoke fluent Dutch & English.  Right before the boat left the dock a very large group of Japanese tourists boarded.  They kept standing up to take photos and video and usually ignored her when she'd say "please sit down now" in both Dutch and English.  So a few times at the last second she'd yell "SIT DOWN!" in Japanese, at which point the Japanese tourists would whip around and immediately sit down and then giggle as we went under a low bridge.  It was hilarious!
The city reminded me a lot of Amsterdam.  Canals & house boats galore:
Coming back we passed the iconic Nyhavn waterfront, dating back to the 17th century:
I LOVED IT and I'm so thankful that [1] I had a layover long enough to allow me to see a bit of the city, and [2] that my Dad knew about the canal tours and could recommend it as a diversion while I waited for my plane to Germany:
(Visited 104 times, 1 visits today)