I'm still on DIY speed "slow-mo".  Today is Week 9 of being sick.  Thankfully I'm on antibiotics finally, which are helping, but I'm still wicked tired and still have a low-grade sore throat by afternoon, which is making me wonder if this infection will ever go away… I was able to work a full day today, which is definitely an improvement over last week!
I had a helper for my project today.  Darwin the overlord/Halloween cat in his favorite spot inside the kitchen pot/pan cabinet above the counter: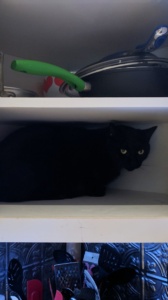 This project was inspired by wine.  For the past few months I've been logging everything I consume into MyFitnessPal.  It's really annoying to measure 1 cup of wine into a glass.  Or 1 cup of milk.  Or juice.  So I decided to paint a ring around the outside of my favorite wine glasses.  I used regular acrylic paint instead of glass paint, so I have no idea if the paint will wash off in the dishwasher [probably]: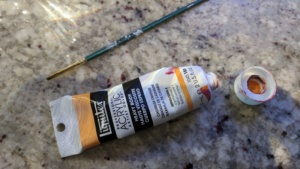 But whatever.  It was a fun, easy project.  And if the paint washes off, I'll redo them with a different color.  I chose orange for the first go-around because the inside of our glass cabinet is orange and we also have many orange kitchen doohickeys.
I grabbed my 6 wine glasses, carefully measured one cup of room-temperature water into them and gently painted a ring around the water line:
I let them dry upside down [after pouring the water out some of it started running down the outside of the glasses – gah!]:
Not too bad!  The color totally clashes with my favorite [chilled] Yellowtail Sangria, but who cares – it's wine 🙂
UPDATE 7/4/2018:
This didn't work. After one run through the dishwasher the paint completely came off!!!
(Visited 144 times, 1 visits today)