In case you missed it, here are the previous links for this now-completed project:
PART 2
– TAKING THE DRYER APART
The replacement heating element for the dryer arrived in the mail this morning:
I removed the broken heating element from it's housing box and noticed in addition to the broken coil there was also a crack through the metal – scary!: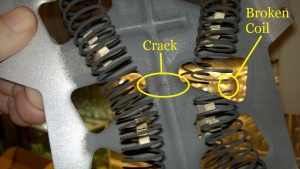 As a demonstration of a component without electrical continuity [broken] versus a component with electrical continuity [good], I tested the old coil & the new coil with the multimeter set to ohms Ω.  When there's no electrical continuity the meter will not change from the "1 ." Ω it displays when you turn it on.  When there is electrical continuity it will display "0.00" Ω:
I placed the new heating element into the housing box, reconnected the wires, put the top back on, & screwed it all together using the screws I'd taped to the top so I wouldn't lose any:
Here's what the box looked like when it was all put back together – the new coil looks good!:
Then it was back behind the dryer for me.  I carefully maneuvered the heating element box back into the dryer and reconnected the blue & red wires:
Then back around the front of the dryer to screw the one locking screw in place:
At this point I put the front of the dryer back together.  Then I went around back again to reconnect the vent hose/back panel piece & the dryer hose:
DONE!:
Then the most important step – a test run:
So far so good!  Hubby is catching up on laundry now, so the first real load of clothes is currently in the dryer.  It seems I actually fixed it!
(Visited 421 times, 1 visits today)