One more item from my 2016 Projects list has been completed!  I painted our new front door black.  When I was at Home Depot earlier this week I picked up a quart of black semi-gloss exterior paint: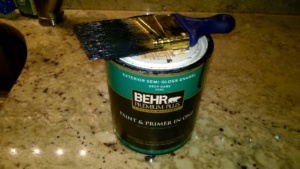 It's thick like chocolate pudding, and dark purple, but it goes on smoothly and dries to a shiny black.  This is my first experience with exterior paint and it was a good one.  After one coat:
After two coats:
And finally, after three coats:
Hooray!  Now it's black like our old front door.  Much better than white.  Although now I'm noticing the grey replacement clapboards near the bottom of the door… Might have to touch those up with some exterior white paint.
(Visited 429 times, 1 visits today)