Fall is OK, but it means winter is coming and I don't like winter!  I wish it went from Fall to Spring to Summer to Fall.  I was in Florida all weekend with hubby, celebrating his dad's 75th Birthday – Happy Birthday Dad#2!  It was fun – we [Jim, me, Jim's brother and Jim's nephew and niece] flew down and totally surprised him 🙂  But somehow I managed to not take even 1 picture.  Oops!
The tree outside our house is really pretty: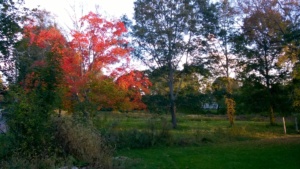 After being locked out of the cat enclosure all weekend, the boys were super happy to be back out there this afternoon:
I haven't done any DIY in like a week.  It's making me feel weird.
My friend Christyne gave me this awesome skeletal rat as an early Halloween gift:
Happy Fall everyone!
(Visited 181 times, 1 visits today)