Until our replacement windows are built and installed, I can't connect the cat enclosure to the house.  So for now I'm carrying the boys* out to it.  I've been bringing Bonkers out since construction started and letting him explore.  He's our "I want to be outside all the time!" kitty, and howled at the back door whenever he saw me in the yard working on it without him:
He LOVES rubbing his cheeks all over the chicken wire:
He even made the paper!  They've been asking for pet pictures so Jim sent in the chicken wire pic: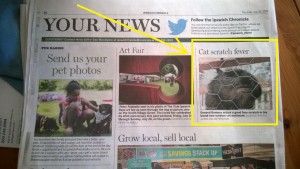 Now that the cat enclosure/catio is completed, I've been carrying both boys* out to it [Bonkers with arms outstretched, eager to get inside; Darwin struggling, hissing and kicking].  Then I sit in a lawn chair while they explore.  The first time I put Darwin in it he was quite startled/ horrified/ stricken: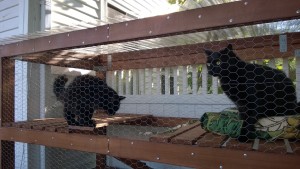 He meowed like he does in his cat carrier and pushed his head against every corner, trying to find a weak spot in the chicken wire.  But then he chillaxed: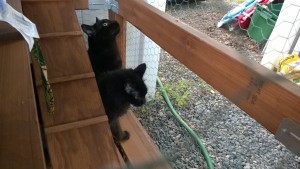 Now they both enjoy it!  Here they are yesterday morning:
Darwin even lay down!
Yesterday afternoon I put the rest of the cushions in, tying them to the chicken wire and slats:
I also added a top-entry litter box, which I thought would be less likely to succumb to the elements than a normal one.  Plus, Darwin loves the one in the girl cave, so I thought it'd help him feel at home.  I first had to remove the lower ramp, because the litter box wouldn't fit by it: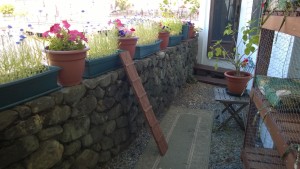 But it's OK because the litter box will act as a step for Bonkers to get from the middle level to the bottom level:
The litter box is held in place by 2 screws behind it:
And a bungee cord looped through a hole I drilled in it and hooked to an eye I screwed to the enclosure frame:
I took the boys back out to the enclosure/catio this morning and they seemed to relax even more:
Look at them both laying down!
I'm so proud of my boys for being so brave, especially Darwin our "scaredy cat"!  They both relaxed and enjoyed the summer breezes and good smells in the air.  Darwin even used the litter box [to pee] before we brought them inside!  Hooray!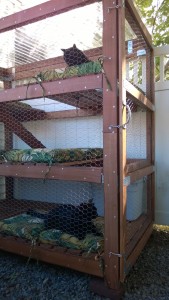 * For now, Birdie has NO desire to be anywhere near Bonkers, and has never shown any interest in going outside, so we haven't introduced her to the catio yet.  Once the replacement windows are in, and the connector is attached between the dining room window and the enclosure, we might see if she's interested in Bonkers-free exploration.  But for now she's not part of the catio adventure [by choice].
(Visited 831 times, 1 visits today)