When the condo I live in was re-done by the previous owners they installed some built-in storage.  There's a built-in bookcase in each bedroom & a built-in media cupboard in the living room.  They're made out of plywood that's gotten brittle over the years, are stained a color I'm not fond of, and have very ugly hardware.  However, they're sturdy & quite useful.  In other words, they're prime candidates for make-overs.  For now they'll be getting shiny paint and hardware.  But at some point in the future I might demo them and build new ones…
When my husband moved into the condo in 2010, his decorator friend re-finished the master bedroom bookcase a tropical turquoise [C2 "Alpine", which doesn't sound very tropical].  This past Spring I decided it needed a cubby unit on top to hold our extra pillows and comforters [which used to be stacked on top of it haphazardly].  I discussed building one with my Dad, as a team effort, and he came over to measure everything out.  Next thing I know he's back at the house with the finished unit!  Holy cow.  See?  He's a DIY mastermind.  So I primed and painted it to match the tropical turquoise, and now we have a much nicer way to store our extra bedding.  Here's a pic of the original unit [photo courtesy of my father in law], and it's current state with the fancy new cubbie on top.  I still haven't replaced the ugly door hardware, but it's been purchased [IKEA Fåglavik] so it's just a matter of time: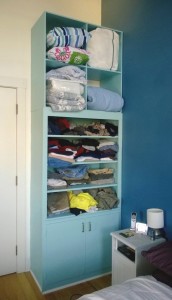 For the girl cave bookcase I decided on high gloss Benjamin Moore Amethyst Shadow: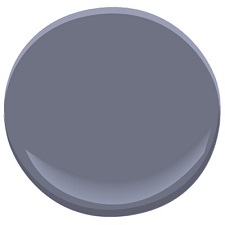 Which is from the same color family as the Violet Mist on the walls.  Here are 2 before shots of the girl cave built-in:
Darwin loves to sneak in and enjoy an upside-down nap: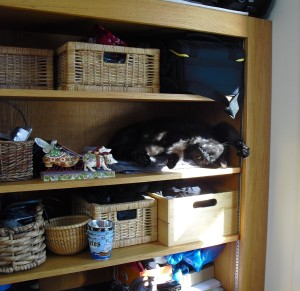 I started by priming the entire unit with 2 coats of Zinsser BIN, to seal the ugly stain and make it paintable with latex paint.  A few days later I put on 3 coats of Amethyst Shadow.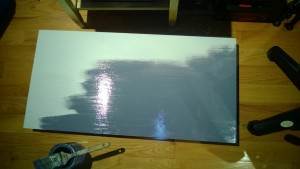 I will only use BIN when it's warm enough to have all the windows open, because that stuff is potent!  And I forgot that if you get it in your hair, on your skin, on your fingernails, on your clothes, or on your nice new hardwood floor, it will not come out.  Ever.  It did finally wash off my skin, but it had to grow out with my fingernails, it will never wash out of my clothes, and a few random spatters were on the floor for a few weeks before I figured out I could scrape them off with a putty knife.
I love how high gloss paint looks on furniture.  It does take a while to cure though.  I waited 2 weeks before putting the shelves back in, and I lay towels on the shelves before putting my stuff back on them, in the hopes it would minimize the paint being ripped off when I removed items… even 2 months later, when I went to grab a tool that was laying on a non-covered spot, it made a tick sound.  It's now been about 3 months and the paint seems totally cured.  Nothing is sticking and I don't need the towels on the shelves anymore.  I love how the new hardware looks too.
I also spray painted the brass hinges a dark carbon nickle with spray paint I've had since college… which ended up coming out in a mix of clumps and spray… oops… and the next morning I noticed the bottom of the can had exploded outwards so it wouldn't stand up anymore… ummmm… carefully tosses can of time-bomb spray paint in outside garbage can.  So I re-sprayed the hinges with a coating of Rustoleum Metallic which mostly cough hid the clumps and gave the hinges a nice sheen.  Although the close up photos are reminding me that up close they look pretty crappy… but from a normal viewing distance they look great 🙂
The living room unit is still the original wood stain color.  However, I have plans to paint it white, so look for that project in the next few months!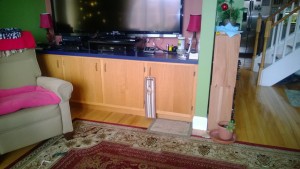 (Visited 271 times, 1 visits today)