At the end of October I started painting the girl cave ceiling, but didn't get very far due to vertigo issues I've suffered from since May.  I'm painting it Benjamin Moore Galaxy – a beautiful, rich, dark purple: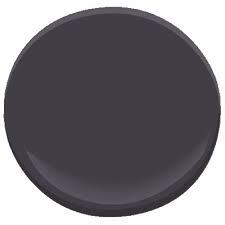 I think it will look so cool once it's painted and covered with tiny LED lights.  I know it's not typical to paint a ceiling, let alone paint it dark, but my girl cave is, well, my GIRL CAVE.  And my art studio.  And I can decorate it however I please 🙂  I've always wanted a starry night ceiling, and now that I'm finally not renting anymore, I can actually do it!  I just finished edging it yesterday.  I am a slow DIY'er.  But that doesn't bother me.  I am not in a hurry, and would rather take my time, learning as I go.  Plus I work full time, have an HGTV addiction that needs feeding, and a huge stack of Kindle books to get lost in.  Having vertigo issues since last May has also made it tricky to spend much time up on a ladder.  But I felt very accomplished last night when I put the 2nd coat of Galaxy on the final stretch of edging.
Next up is getting out the paint roller, covering my stuff with plastic, covering the floor with contractor's paper, and making a huge mess as I paint the majority of the ceiling – hooray!
(Visited 443 times, 1 visits today)