Yesterday I bought my first tub of joint compound.  I feel like this is one huge step in my ability to fix things myself!  I don't know why I equate owning joint compound with DIY success… but I do.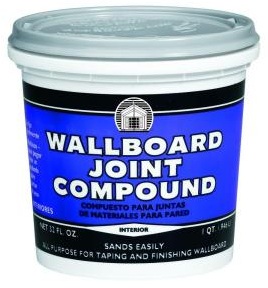 I'm going to use it to patch a crack where the drywall tape has separated from the ceiling in my girl cave.  Thankfully I have a brand new [$300…] Little Giant 22′ Alta-One ladder so I can safely get up there [versus using a broken extension ladder balanced on an end table, which is how I got the walls painted…].  I splurged on the Little Giant because it's light enough that I can maneuver it by myself [with some difficulty… it's 37 lbs], can be used as an A-frame or a straight up and down extension ladder, doesn't take up too much space in storage, and is extremely sturdy and safe.  You can't put a price on safety!
I have been following Sarah at UglyDucklingHouse and Kit at DIYDiva and they have given me the confidence to believe I can repair this myself!  I also bought a self-adhesive patch kit [I was looking for self-adhesive drywall joint tape, but no one I asked at Home Depot seemed to have any idea what I was talking about], a joint knife to spread the compound, and a fine grit sanding block to use between layers of compound, and before painting.  I will let you know how it goes!
(Visited 239 times, 1 visits today)