At some point after I moved into the condo [February 2012] & before I started blogging [August 2013], I added shelves to the laundry room:
Which [obviously] was much nicer than storing the laundry stuff on top of the machines [pats self on back].  I remember Jim being happily surprised by how perfectly level they were .
The shelves were great for years.  Even when Darwin would haul his fat ass up onto them.  But in September 2021 the bottom one crash landed onto the washer/dryer.  We weren't home, I have no idea where we were, but I'm sure Darwin spent a few hours under the bed until he was sure the scary monster was gone!
I  had installed the shelf with anchors, but they gave out.  Some ripped right out of the wall, and some stayed in:
I was impressed with how little damage was done to the wall:
This time I used Molly bolts [which have "legs" that expand outwards like a spider and grip the back of the drywall] & 2 extra shelf brackets:
I purposely added white brackets; I thought they'd look nicer than having all black.  Plus, the white ones are super heavy duty while the black ones are cheap Ikea: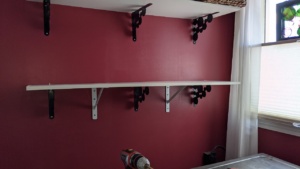 Looking good!:
(Visited 19 times, 1 visits today)