This Halloween I spent the night in the hospital doing a sleep study.  Entertaining, yet boring.  LAST Halloween [aka 2021] we spent our Halloween night at New England Botanic Garden at Tower Hill in Boylston, MA.  I associate "Boylston" with Boston so much that I had no idea there was an actual Boylston, MA.  It's just NE of Worcester, about an hour and a half from us.  I saw an ad on Facebook for their Autumn Illuminated exhibit last year [pic on the left is a screen shot from their ad] and surprised Jim with tickets:
Upon our arrival, the sunset was stunning.  It was too bad their parking lot construction was going on so I couldn't get better photos of it:
Here are the photos I took as we wandered through the Illuminated gardens.
The lighted garden was smaller than we expected, yet beautiful.  You walk along a circular path that takes you by outdoor art exhibits and sculpture, with a few garden gnomes thrown in (for "Gnomevember"):
The sunset continually added new and amazing colors to the evening:
Final sunset shot as we walked back to the car: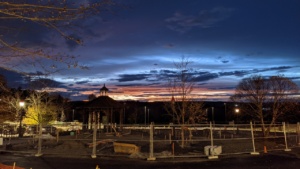 I would highly recommend a visit to this botanical garden and museum.  I'm not sure what mountain range they are in, but it's beautiful country for sure.
(Visited 53 times, 1 visits today)