On our 4th day in Germany, we drove to see the Triberg Waterfalls which are one of the highest waterfalls in Germany.  Triberg is in the Black Forest and is famous for it's handmade cuckoo clocks.  I would have loved to buy one but they were super expensive.
The town of Triberg is magical:
We hiked up a long, beautiful trail through the forest along the falls – up and up and up!  It was tiring but quite amazing!  I told Joachim "I can't believe you're making us climb a mountain!"  I was only half joking… but it was gorgeous and totally worth the climb:
The forest in Triberg is supposedly famous for squirrels – I was SO EXCITED to see squirrels!  They've always been one of my most favorite animals.  Black Forest squirrels are blackish red with tufted ears [photo courtesy of TRIPADVISER]:
Daniela even brought a bag of walnuts from the trees in her gardens to leave along the trail for them.  And they sell peanuts along the trail for the squirrels.  There's even a sign at the trail head advertising the hoards of adorable squirrels [Jim likes this picture because he said Daniela & I look like the squirrel with our sandwiches]:
However, we saw NO SQUIRRELS.  We were promised squirrels, dammit!  Joachim asked a sales clerk in a shop after our hike and she told him they must be either cold or sleeping.  He told her to quit bullshitting him and she finally admitted there haven't been squirrels in a while.  No one seems to know where they went.  It seems odd to me that squirrels being fed a constant stream of peanuts would disappear… and it seems very dishonest that they still sell peanuts along the trail!  I read a review on Trip Advisor by a guy who hiked the trail on a Monday [in August 2016] and bought peanuts but didn't see any squirrels either.  The sales clerk in town told him it must be because they were so full from the weekend.  Another reviewer [from 2014] said she didn't see any squirrels either.  FRAUD!  OK, after a bit more research, it seems that random people from 2014-2016 have seen the squirrels, while a bunch of other people haven't.  Maybe they do hide sometimes… who knows.  Maybe next time 🙂
In the absence of squirrels, the Spotted Nutrackers were VERY happy to eat the peanuts and walnuts Daniela kept leaving on random trunks and stones:
And our walk through the forest was beautiful:
As we were walking back to the car I saw 2 things that made me LOL – this awesomely embellished VW symbol [which reminds me of the Devil Fish I have on my car, pictured on the right]:
And this sign outside a restaurant:
Pizza NO!  *cackle* I wonder how many times they were asked for those items before they made the sign.
After Triberg we headed to Castle Sigmaringen.  Schloss [Castle] Sigmaringen was built in the mid 1000s in the Swabian Alps.  It lies on the River Danube, atop a 115-foot chalk cliff known as the Schlossberg.  It was one of the best protected castles in Germany during the Middle Ages.  Between 1460 & 1500 the castle was converted from a Burg [military fortress] into a Schloss [fortified residence].  HA!  Now I know the difference between Burg & Schloss 🙂  Since 1871 the castle has been open for guided tours and houses many museums and collections, including a torture museum [lovely].  We arrived JUST as the doors were closing for the final tour of the day – d'oh!  But wandering around the exterior of the grounds and surrounding streets provided some stunning views:
The window bordered in red was actually the window in the ladies room of the castle!  Quite a view: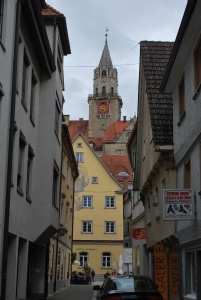 I loved the doorknocker for the main doors – snake!  We had another Döner kebab for dinner – Jim & I both had vegetarian ones this time.  YUM YUM YUM!
We spent 5 hours in the car & drove 203 miles on Day 4!  Here's our route from Nürtingen to Triberg Waterfalls to Sigmaringen Castle & back to Nürtingen:
Stay tuned for Day 5, our final full day in Germany.
(Visited 298 times, 1 visits today)