Thanks to your suggestions, everyone!  And thanks for the call, Ab – sorry I missed you – I'll touch base tomorrow!
My parents came over this morning to discuss the cat enclosure.  My Dad is a DIY expert – he's been doing it since before I was born.  And my Mom is a very good consultant.  So we put our heads together and made some decisions [hubby left us to it and went for a run – love you, hubby!!!].  We decided on chicken wire instead of hardware cloth, slats instead of solid wood for the shelves and floor [to allow for drainage], and stain instead of paint.  Exterior stain [thanks to D'Arcy and Jason for that reminder!].
After they left I went to Home Depot and found this outdoor stain/sealant mix in color "acorn":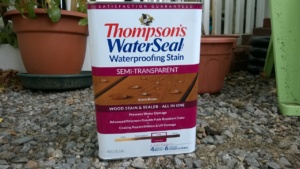 It appealed to me b/c you only need one coat [they do NOT recommend 2] and it dries really fast.
I also bought chicken wire [officially known as "Poultry Netting"]: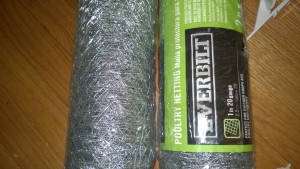 It's 2 feet high, which will be perfect for my 6′ enclosure b/c I'll be able to staple it to each horizontal beam which are spaced 2′ apart.
I also bought 1×4 "slats" for the shelves and floor: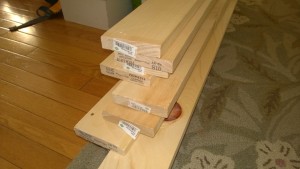 I'll be installing it like decking – spaced about ½" apart.
Then I got to work staining the 2 "walls" [I built one the other day & one this morning before my parents arrived] and the shorter side beams:
Then I got a bee in my bonnet and decided to dismantle the 2 walls and stain the parts I'd missed due to the pieces being screwed together.  Now my wood is 100% waterproof:
Once it dried hubby and I brought it back inside.  It's supposed to rain tomorrow and I want to put the walls back together asap: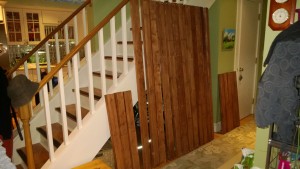 My Dad suggested instead of screwing the beams to the 4 vertical posts I should use metal joist connectors like this one: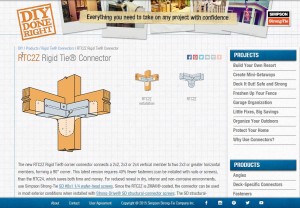 I think that's an awesome idea!  It will provide an extra solid connection at each join.  The only problem is that originally I'd constructed each wall to have the longer beams be wide-side down, and the side beams be thin-side down: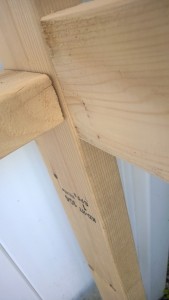 That's not a very good picture, but hopefully you can see what I'm talking about.  The connectors would require all beams to be thin-side down.  But the more I think about it, the more I think it would be OK.  It would also give me more real estate for stapling on the chicken wire.  So tomorrow morning I'll head back to Home Depot.  I looked at the connectors today but couldn't visualize it until I came back home and stared at my wood for a while.
(Visited 700 times, 1 visits today)