In case you missed it, here are the previous links for our 2015 trip to Maui, Hawaii:
I promise I will be posting about actual DIY stuff soon!  For the past 5 weeks I have been fully engulfed in a manic frenzy of epic proportions to get all my photos from 1987-2015 cataloged and pared down.  I scanned all my hard-copies from 1987-2000.  Then I went through 15 years of digital photos and deleted close to 20,000 [15,000 from 2011-2015 alone!].  Now I'm left with roughly 10,000 "keepers", from 1987-2015, organized by year and event.  *PHEW*.  You have no idea how happy I am that it's DONE!!!  OMG!  Sometimes it really helps to have a fully engaging project to take your mind of stuff.  Like Winter.  And look, now it's almost Spring!  That worked out quite nicely *nods*.
Last April hubby and I spent 11 days in Maui, Hawaii.  Here are the highlights from our last 3 days [day 11 was spent mostly in the air flying home]:
DAY 8:
We started off day 8 the way we started off every day in Maui, by sitting on our hotel balcony, sipping tea and coffee, watching the shopkeepers up the street setting up for the day, and taking pics of the minah birds and spotted dove that came begging for snacks:
We were staying at the historic Pioneer Inn, a 2-story, plantation-style structure built in 1901 – it wasn't fancy, but we loved its quirky charm and open balcony:
After lunch we headed up the street to Maui Wave Riders where Jim had signed up for a surf lesson.  I opted out, as I was feeling more sloth than superstar that day.  Jim was the only one who showed up for the lesson – everyone else had canceled due to the fatal shark attack 2 days prior…  But not brave hubby!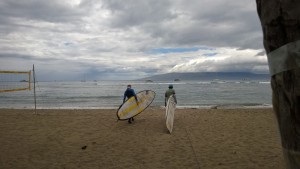 After only a few minutes in the water he was already up and riding!
Great job, hubby!
DAY 9:
On day 9 we did NOTHING.  We had planned to drive to Hana and do the classic "road to Hana" trip [which is a "must see" for anyone visiting Maui] but we never made it.  Naps and beach won out over spending the entire day in the car.  I have some regrets that we never saw it, but we'll be back.  Our only real goal for the day was to see a sea turtle.  On the Big Island we'd seen them every time we got in the water, but on Maui they were nowhere to be found.  We asked the hotel concierge where we could snorkel and also find sea turtles and he recommended Black Rock Beach, about a half hour north of our hotel:
We saw some very colorful fish, but it was hard to get any decent pictures – I was SO excited to see a rainbow-colored Christmas wrasse!  [pic on right] – they don't look real:
And FINALLY we saw a sea turtle, but she was in no mood to be photographed.  Me and 2 guys followed her [from a respectable distance] as she led us out into deeper water.  We didn't realize – until it was almost too late – that she was also leading us towards the dangerous lava rock cliffs.  Suddenly all 3 of us were sucked into a mad spin-cycle of current and undertow that kept shoving us closer to the rocks.  In a mad tangle of arms, legs, pushing off rocks, and shoving, we managed to surface and had sort of a nervous laughter/omg that was scary moment before heading back to shore.  Meanwhile the crafty sea turtle was long gone:
After that it was back to Lāhainā for some late afternoon relaxing:
And then up the road to Lāhainā Pizza Co. for schmancy foofy drinks [me], locally brewed beer [hubby], and awesome food.  I enjoyed a "Blue Hawaii" & an "Island Sunset" as we waited at the bar for our table – they were both divine:
DAY 10:
Another mystery to us was the lack of Gold Dust Day Geckos on Maui, which were ALL OVER the Big Island.  We hadn't seen any in the 9 days we'd been there.  The concierge had no idea, but a local artist we bought some work from [and who had photos of Gold Dust Day Geckos] whispered that we could find them at Maui Tropical Plantation, which was about a half hour south of Lāhainā.  I think he was worried his secret would get out and he'd no longer have the monopoly on Maui Gecko photographs…  So we spent most of our last day at the Plantation.  It was a pretty fascinating place with lots of wildlife:
Flowers:
Vegetation:
Lizards:
And finally the Gold Dust Day Gecko!  *HAPPY SQUEAK*:
A wonderful end to our awesome trip.
(Visited 269 times, 1 visits today)