PAGE LAST UPDATED 6/21/18
In late April we adopted 2 baby boy rats. We named them Winston and Killy [short for Kīlauea]:
Winston is a white dumbo rat with gray markings that make him look like a little old man.  Killy is light grey with darker grey spots that make it look like he's been rained on [same pattern as our gone-but-never-forgotten girl Clarabell].
They are so busy that it's nearly impossible to get photos of them.  I'll be writing a post about them later today!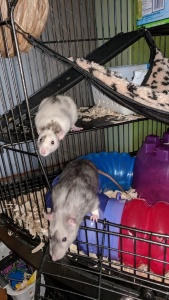 (Visited 76 times, 1 visits today)