Alot of people ask me "where do you get your energy!?!" The short answer is:  I have no idea.
When I moved into hubby's condo in 2012 my life changed drastically.  I started to discover a love for DIY home improvement and repair, and started this blog in 2013 to chronicle my many projects.  However, around the same time period, I also developed "manic episodes" where I can't sit still and all I want to do is work on projects and be busy.  The manic phases last for about 4 months, with my brain going a mile a minute.  All I can think about is "projects, projects, projects!"  On the weekends I wake up early, raring to go, and work all day.  On work days I start right up again as soon as I get home.  I'm always looking around thinking "maybe that could use a new coat of paint [or stain]", or "the catio needs an overhaul!", or "I need to make another stained glass frame", etc.  Thankfully my brain shuts off and I sleep like a baby at night, or I'd crash a lot sooner than I do!
And, if for some reason I can't find a project to do, I'll do something insane like organize 16 years of digital photographs and scan my favorite non-digital ones into the cloud.  Or I'll go through our closets and make huge piles to donate to good will.  The problem with manic phases is:  they end.  And when mine end, I crash for weeks.  And right now I'm in one of those crashes.
It's NOT manic-depression.  I do suffer from clinical depression [and have since puberty], but the manic phases are something else.  And the crashes aren't depressive, they're defined by a complete lack of energy and zero ambition to work on projects.  Even fun ones.  I spend my weekends and evenings binge watching TV, reading more books than usual, or sitting in the yard with the cats & sipping tea or wine.  I don't like these in-between times.  I get frustrated because I WANT to be doing stuff!  I just can't muster the energy to do anything [besides getting up and going to work, which is the most important thing].
I just wanted to post this to prove I do not always have endless energy.  If you go back through my blog you can see periods of manic energy [multiple overlapping projects completed or being worked on for weeks on end] and the periods of nothingness where I attempt to post SOMETHING, but the posts are just filler so you don't think I've abandoned my blog.  I have discussed these manic episodes [and resultant crashes] with my doctors and therapist, and they don't know what to make of them.  It's definitely not "normal", but since I focus all my energy on being productive and/or creative [versus going on drinking benders or crime sprees] they aren't too worried as long as I'm not.  And I'm not worried.  I've grown to enjoy the manic phases because I get SO MUCH DONE.  I just hate the crashes.  I actually charted it out and I seem to be manic for 4 months, then "normal" for 2.  It repeats over and over, starting when I moved into the condo in February 2012.  And since I'm about 5 weeks into my "normal"/crash phase, I figure my crazy energy will be coming back sometime around mid-July.
I'll fill the rest of this post with the adorable animal photos I've been obsessively taking over the past 5 weeks – I've seriously taken almost 300 photos!  I have narrowed them down to my favorites:
BIRDIE: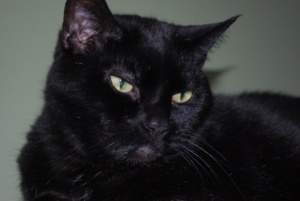 Chillin' on my workbench:
Munching the cat grass I brought in from outside:
A civil confrontation with Darwin, and her favorite spot on hot days [upstairs hall]:
DARWIN:
Investigating my new Death Star necklace:
Beating a hasty retreat after remembering he's scared of the "evil" ceiling fan:
Hunting birds in the girl cave window & snoozing in my motorcycle tail bag:
Sharing cat grass with Bonkers & giving each of daddy's green salad olives a good lick:
BONKERS:
Enjoying sunny afternoons in the catio with much face-rubbing on the wire:
Enjoying sunny afternoons in the living room window:
Chillin' on his living room basket, and hanging outside with mummy:
Enjoying more time in the catio, alone & with Darwin [and more face-rubbing]:
FRANC:
Chillin' in his hammock, and enjoying some whipped cream & berries:
Having fun playing in our outdoor plant pots:
Lots of good smells, & love from daddy:
Enjoying some strawberry oatmeal bar under the couch comforter with mummy, and chillin' on the River wall in our back yard:
BACK YARD:
I spent a lot of time these past 5 weeks hanging out in the back yard with the cats in the catio.  I sit in my plastic Adirondack chair, sometimes with a mug of tea [mornings] or a glass of wine [evenings], watching the world go by.  I enjoy having our yard door open so I can see the street on one side [and watch the cars/trucks/people go by] and the River on the other side. It's so relaxing back there!
Here's the view from the living room door looking out at the catio and my chair[s], and looking to the right at Bonky in the catio and towards the front of our house:
The view [from my chair] looking straight ahead at the living room door & the view looking right at our driveway & street:
Chillin' with the boys:
The view looking left at the Ipswich River, dam/waterfall, and dead tree which landed half over the falls a few weeks ago.  It's now a favorite spot for the cormorants to dry their wings:
(Visited 79 times, 1 visits today)