OK, so veggie dogs and quinoa burgers aren't exactly "grilled vegetables", but close enough!
I haven't eaten "real" hotdogs in a very long time, because they're typically made with pork.  I gave up eating pigs about 15 years ago ever since learning they're smarter than dogs*.  Plus they're adorable.  Those little faces!  And Esther the Wonder Pig is my all time favorite pig [the following screen grabs from her Facebook page were posted without her permission – hopefully she won't mind]:
She makes me laugh all the time.  I love you, Esther!
I've tried all-beef hotdogs, and I've had turkey dogs, but I'm also OK eating veggie dogs.  Jim picked some up at the store Tuesday, as well as roasted garlic & quinoa burgers: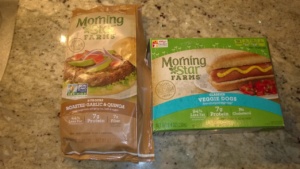 With burgers & dogs there's really no grill preparation required asides from preheating it.  I tossed 3 dogs and 2 burgers on the grill Tuesday night: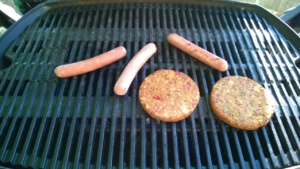 I closed the lid and went back inside because it was SO FREAKING HOT IN THE YARD: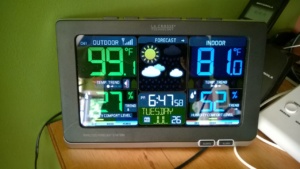 Our back yard heats up to well over 100° many days, once the sun moves around.  This was almost 7pm and it was still 99° out there!  Thankfully with the AC on, the inside of the house was a more reasonable 81°.  Still on the warm side, but better.
After 5 minutes: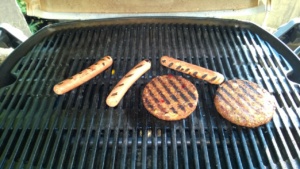 After another 5 minutes – done!  So easy: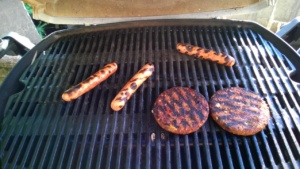 I tossed buttered rolls on for me [Jim prefers his un-grilled], and the flames leaped up to grab the butter, which is always slightly startling: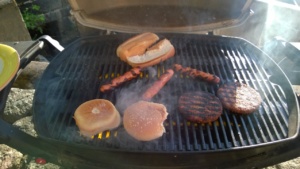 Sooooooooooo easy and so good: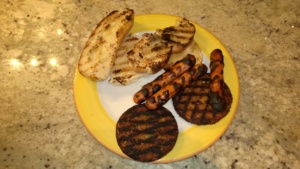 2 dogs & 1 burger for hubby, 1 dog & 1 burger for me.  Numnumnum.
This will probably be my last grilling post for a while, since I've just about covered everything on my summer grilling list.  Although my friend Holly suggested I try beets, and that sounds tantalizing… And Jo suggested peaches, which I've had at Abbie's, and those are awesome.  And Jim's coworker suggested cabbage impaled on a half-full beer can, which sounds intriguing…  We'll see!  I'm hoping this weekend to actually work on some DIY stuff around the house, since it won't be so blastedly hot out.
And for people who worry about the protein content in vegetarian choices [hi Mom!], here's the breakdown between a regular Oscar Mayer beef/pork hot dog, and a Morning Star Farms veggie dog:
The veggie dog has less calories, MORE protein, less fat, and less sodium.
Here's the breakdown between a typical beef hamburger and a Morning Star Farms veggie burger:
The veggie burger has less calories, LESS protein [but still a good amount for half a meal], less fat, but [and the only bad part] a crap ton more sodium.
Have a wonderful weekend!
* Meat caveat:  I can't eat pigs because they're smart.  The idea of eating sentient meat makes me nauseous.  That's why I'll never eat octopus or squid, either.  I can't eat ducks because they're WAY too funny & adorable.  Same goes for rabbits.  I can't eat lamb [even though I love it] because lambs are babies.  I've never been able to stomach veal for the same reason.
Save
Save
(Visited 147 times, 1 visits today)