If you're scratching your head at my title and saying "Kousa?" you're not alone.  I'd never heard of it either.  It's Lebanese squash, and is very similar to zucchini and summer squash.  When I first saw it at the Gloucester Farmer's Market last week I thought it was a hybrid of the two, because of the light green color and obvious similarities.  But the Lebanese farmer set me straight and told me many local farms are starting to grow it.  Depending on your Google results it can also be spelled Koosa, Kusa, or Cousa, but the farmer spelled it "Kousa" so that's what I'm going with.  I took his assistant's advice while chopping it and tossed a raw piece in my mouth – it was very tasty and sweet!
I also bought zucchini, summer squash, and corn from him.  On Saturday evening I pre-heated the grill [on high], then sliced up the squash into chunks.  I tossed them into 2 gallon-sized Ziploc bags, added olive oil, garlic flakes, and sea salt, and shook them up:
I didn't do anything to the corn except shuck it and break the stems/ends off [they keep the grill lid from closing all the way].  I dumped the 2 bags of squash into my grill basket and was ready to head outside: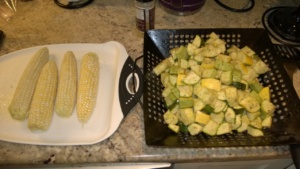 I placed everything on the grill, then closed the lid and went back inside.  I don't set a timer, I just try and check my grilled items every 5 or 6 minutes or so.  Haven't burned anything yet!  Each time I went out I rolled the corn and stirred the squash.
After 6 minutes: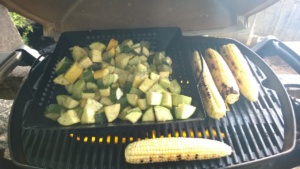 After another 6 minutes: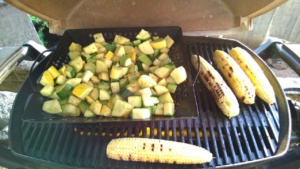 After another 6 minutes – DONE!: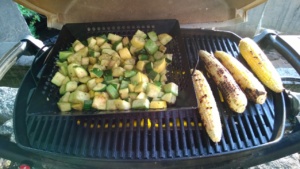 Soooooooooooo good!  Hubby and I both prefer our corn sliced off the cob, in a bowl with butter and salt [and pepper for me]: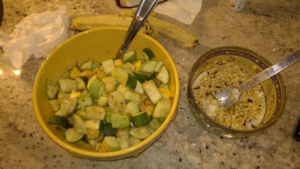 I give the corn cobs to the rats [after they cool off] so they can gnaw on the remaining kernels 🙂  I hope you've been enjoying your grill as much as I have!
(Visited 70 times, 1 visits today)